OpenSync: Celebrating 5 Years of Advancement and Accelerating Deployment Options
October 24, 2023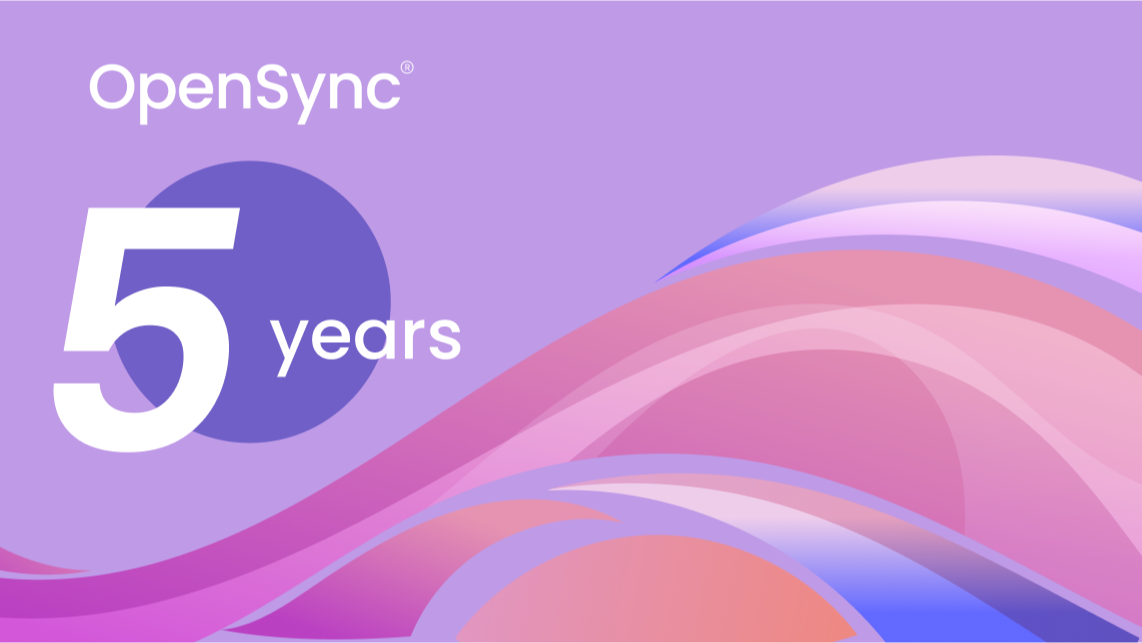 The growth story
The launch of OpenSync in October 2018 was driven by the vision to change the dynamics of the consumer services market by enabling developers and Communication Service Providers (CSPs) to work together with unprecedented efficiency. The journey so far is nothing short of incredible. Since its inception, OpenSync has grown, with over 430 Communications Service Providers (CSPs) now relying on the framework to deliver highly personalized cloud-based experiences. These include some of the most established CSPs in the world, such as Comcast, Liberty Global, Bell Canada, J:COM and Charter Communications. Over 2.5 billion connected devices have been managed by OpenSync-powered networks, creating the largest software-defined network (SDN) for smart spaces across the globe.
Over 30 ODM and OEM partners, moreover, are contributing to the growth of the OpenSync ecosystem with more than 75 devices from leading Customer Premises Equipment (CPE) manufacturers. These are exceptional milestones for an open-source framework launched only five years ago.
Looking ahead, 2024 holds great promise and paves the way for an even stronger future, emphasising the ongoing effort to pre-integrate OpenSync with widely-adopted software frameworks. Additionally, there remains a dedicated focus on harmonization with key industry standards, all in the upcoming releases of OpenSync version 6 and OpenSync version 7. These advancements will be showcased at the upcoming second annual OpenSync Summit to be held on June 12th and 13th, 2024. 
The advantages of a 'fully independent' OpenSync
The rapid expansion of OpenSync has coincided with its gradual growth as an independent framework for multi-vendor cloud-based service delivery, paving the way for a disruptive transformation in service delivery for CSPs. 
This separation means OpenSync can further accelerate the creation of an ecosystem that thrives beyond CPEs and encompasses best-in-class cloud service companies. This, in turn, is crucial to providing no-vendor lock-in, ensuring choice for CSPs and more. 
The full independence of OpenSync also means anyone can build their own cloud using OpenSync's northbound APIs, including enabling innovation, and the ability to launch new services.
An independent OpenSync, also, leverages the services offered by a wide range of Application Service Providers, including Plume, to drive ongoing advancement and innovation.
From OpenSync 5 to OpenSync 6: the journey towards standardization continues  
OpenSync continues to evolve, and its journey towards harmonization with industry standards. OpenSync 5, the latest release, offers partners benefits like, Linux SDN for native Linux routing table utilization, WiFi 7 support, advanced SDN, and Deep Packet Inspection (DPI) capabilities. This promotes widespread framework adoption, making OpenSync even more accessible and easier to adopt.
Explore further at opensync.io/wiki.
The journey, however, is far from over. 
OpenSync 6, available in 2024, will feature the support of dynamic MLO for WiFi 7, TR-181 and Multi-Controller architectures with improved interoperability capabilities. These features unlock increased compliance with CSP architectures, strengthening OpenSync's position to empower CSPs to deliver hardware-agnostic consumer experiences to their subscribers.
The focus of OpenSync 6 includes strengthening the compatibility with industry standardized Software Development Kits (SDKs), including OpenWRT, fostering a further expansion of the OpenSync ecosystem.  
An ever-expanding universe
To truly understand the future trajectory of OpenSync, it is worth highlighting the milestones of this extremely successful open-source initiative.   
2019

Launch of OpenSync-enabled gateways into the largest CSPs and retail partners in North America (Charter Communications, Bell Canada, Samsung), Japan (J:COM), UK (Liberty Global), and many other operators in Europe
10M homes managed
Advanced Device Typing, cyber-security, content filtering, and WiFi motion detection features introduced

2020

Deployment expansion with one of the largest CSPs in the world (Liberty Global) across their European footprint

Selected by the Telecom Infra Project as the core WiFi Management Solution for OpenWiFi 1.0

WiFi 6 network optimization, dynamic deep-packet inspection, device prioritization, and small business features added

Expansion of the OpenSync ecosystem with additional SOC and ODM partners.

7 SOC partners added
10 ODM partners added

20M locations managed

2021

Establishment of the OpenSync Integration Center (OIC)

Formal OpenSync integration certification available from Plume, accelerating CPE certifications

WiFi 6E network optimization, LTE backup, DPP onboarding, configurable firewall, application detection, and Hotspot 2.0 features added

Ecosystem growth

Expansion to 20 ODM partners

30M locations managed

First commercial deployments of generic OpenSync-integrated devices

1B client devices managed

2022

Application prioritization, application QoE, IPSec tunneling, and 5G FWA features added
Over 35 OpenSync Certified CPE's
43M+ locations managed
2B+ client devices managed

2023

OpenSync 5, inclusive of Linux SDN, and WiFi 7 support
Introduction of AVLs and ADCs
1 new Authorized Vendor Lab (AVL) added
1 new Authorized Development Center (ADC) added
Hosted our first OpenSync Summit 2023, Taipei, Taiwan
Over 75+ certified CPEs
33+ ODM/OEM partners
50 million+ locations managed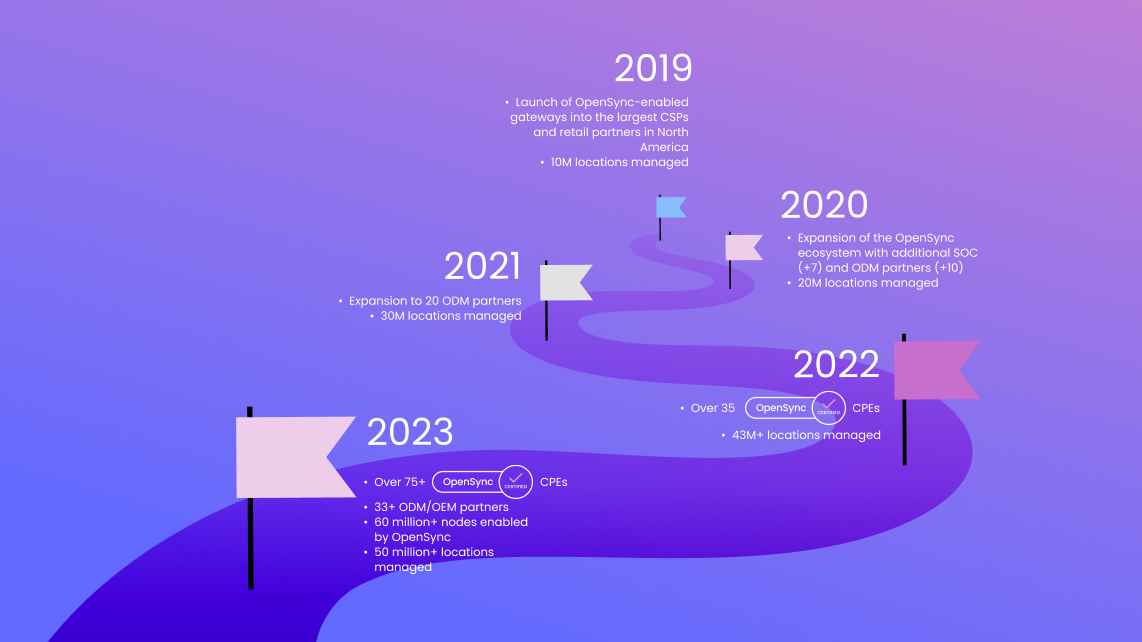 Reuniting the global community of service providers, device makers, and software developers
To celebrate the milestones achieved and share knowledge and expertise, earlier in the year OpenSync held its inaugural OpenSync Summit, which took place in Taipei, Taiwan, in March 2023. The event brought together innovators and thought leaders from the global broadband service provider and consumer electronics industries. Cloud application developers, CSPs, and device makers got a first-hand overview of the OpenSync roadmap, accessing real-world case studies from service providers that are already benefiting from the framework.
Building on this success, in June 2024 OpenSync will host the second OpenSync Summit, also in Taipei. Once again, the event will reunite the growing community of service providers, device makers and software developers. It will provide a platform to delve into OpenSync 6 and 7 and unveil new use cases showing how and why OpenSync is the only way to reliably and dynamically deliver programmable services at scale in CPEs and consumer networking devices.